Questions raised by collectors which we believe will be of interest for many of you.

You find the name Jecelin on the bird fountain not Jezelin.  Which is correct?
Answer: Nicely spotted.  When the family arrived in Belgium the officials recorded their name with z in the population register.  As a result, the name Jezelin is found written with z in all official documents.  Alfred himself wrote his name with a "c" so in all documents he filled in himself you find the writing Jecelin.

Some numbers seem to be missing in the additions on the web.
Answer: By accident some decorations were added on the web which after discussion proved not to be new ones.  The numbers have been reused in the meantime.
As part of the preparations of the renewed edition a simplification has been introduced in the numbering.  In the new edition models which are the same but only differ in size have been given a single number.  In view of this a lot of numbers have disappeared.  At the end of the catalogue a list is added to help people who know the first edition.  To avoid confusion we will not reuse these numbers but new number start at number 235

We have seem lots of discussions on whether or not production of christmas decorations was continued when Jezelin went initially to Luxemburg and later to Germany.  According to his family we contacted on the point this was not the case.  It was initially the intention to continue the production in Luxemburg but this was never realized.
The lady who manages the side www.industry.lu is very capable but she is not really interested in Gremoglas or production of Christmas decorations.  She just manages the site on which the info about the Gremoglas factory are located.  The content is the result of the research of her coworker J.M Ottele.  Most of the info he collected actually comes from the previous book we published (U sijt wellecome) and also many photos come from this source.
Our own research using info provided by ex employees and family of Jezelin yielded following results.  In 1952 Jezelin left Belgium and went to Grevenmacher, he was accompanied by his right hand Valasek Ferdinand (Freddy), his commercial responsible Constant Dieudonné Godon and three other employees of the ajeko company.  Especially the language handicap made integration hard and soon the employees returned to Belgium.    Alfred also struggled to find qualified personnel in Luxemburg.  In view of this, he asked two friends who were glassblowers to come and help him, their names are Enax Ehrenfried en Peage Manfred.
Production of Christmas decorations was very labor intensive at the time.  Additional to the glass blowing also the painting is a real skill.  In view of this, he did not manage to restart production.  You should not forget that he employed 90 full time people in Hemiksem.  The Gremoglas site was closed after two years.  Clearly a confirmation it was not a success.
Another fact; During the move to Luwemburg Jezelin took the remaining stock with him (also Christmas decorations).  This entire stock was sold to a shop in Luxemburg called "Magasin Lassner" in Rue de la Reine.  The owner of the shop at the time confirmed this, he believed the stock came from a Belgian company that had gone bankrupt.  A long story to support our statement that in our knowledge, no Christmas decorations were produced by Jezelin in Luxemburg

Ajeko decoration are made of thick glass.  Some other decorations also exist from thick glass.  These are often confused with ajeko decorations
These other decorations made from thick glass are of Russian origin.  One of the models which is regularly brought to our attention is the fish you find below.  Other models however exist such as a midget, a santa claus …  None of these figures have a glass eyelet.  Of course it could always be missing on your personal piece.  Many of these figures are featured in a book on Russian decorations calledImperial Russian, Soviet and German christmas ornaments,
Several pieces have now been tracked down of each of these decorations and they never have a glass eyelet.  Additionally they all display the same characteristics such as fine metal hanger, thick glass, jagged edge.
.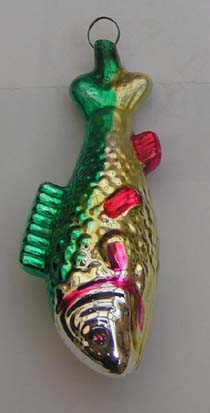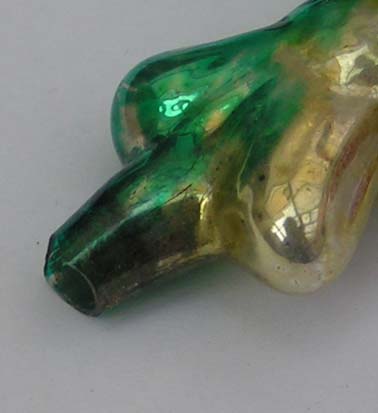 No ajeko but Russian production

In the book you find a violin and a double base with either long or short stem.  For anyone who has both the difference is clear but how can a starting collector see which of the two types is in his collection.  Easy, turn around the decoration. At the back of the double base you find a depression.  You do not find this on the violin.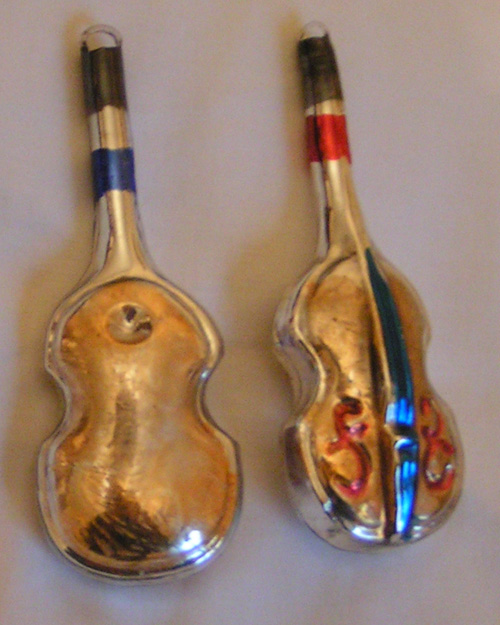 You see a depression on the verso of the double base

After a tip of Pedro that some decorations exist in coloured glass which is fully transparant, several models were found.  Looking at the small defects in the glass in the one below we assume this is part of the early production from Schelle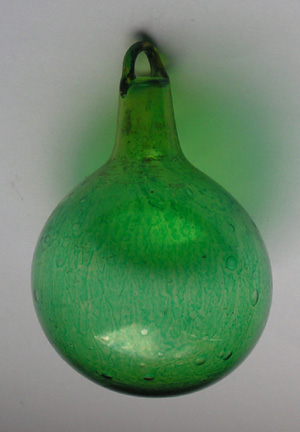 Finally some early decorations with primitive painting, we leave it up to each of you to decide whether or not this painting was added lateron . ( foto Inge)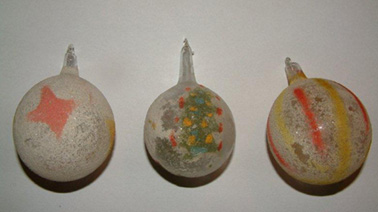 Still under discussion
In both previous but also in the new edition decoration 84 and 220 have been defined as different models
<![if !vml]>

<![endif]>                 <![if !vml]>

<![endif]>
To date it is unclear whether or not decoration 220 is a production error for decoration 84, an error in which the decoration was not fully blown into the mould.  This theory seems to be confirmed by the discovery of other models of 84 which are not fully blown out.  As long as no agreement is reached within the community we prefer to leave the decision to each of you
A similar discussion is still ongoing about decorations 44 and 47.  Is that one model which is again more or less inflated
<![if !vml]>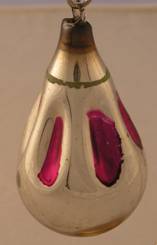 <![endif]>                     <![if !vml]>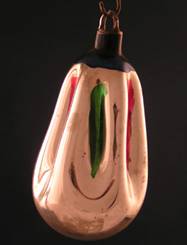 <![endif]>
In both cases, any view from any of you is welcomed.

Colour of duck wings
As many of you will know the majority of ducks have either yellow or light green wings.
Also light pink is seen from time to time although the colour is much rarer.
In the past year, we have come across 2 models of the duck with dark blue wings.  We are very interested to find out if any of you have this dark blue variant or still other colour schemes
Below a Photo to show you the colour variations
<![if !vml]>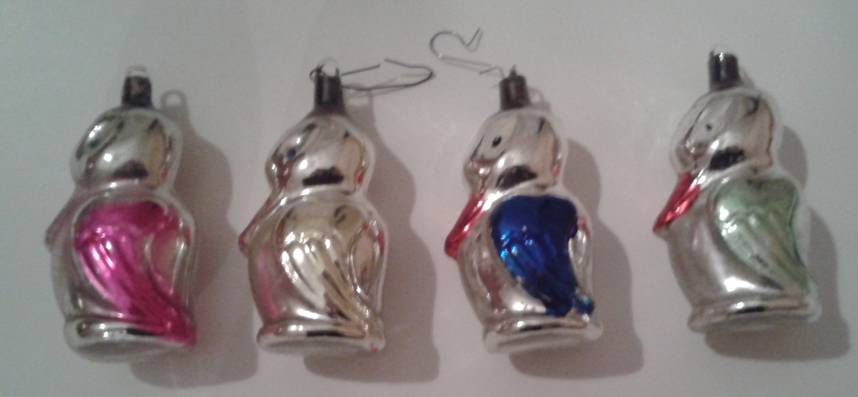 <![endif]>